WHO: people who would like to get together, read, discuss, and share Communion together.
WHAT: each week, we'll read a portion of of the Bible and discuss it
WHEN: NOT CURRENTLY MEETING

WHERE: Typically meet in the Room2Grow at Mount Olivet Lutheran Church.
HOW: Bring your own Bible and beverage.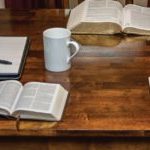 TO REGISTER, contact the church office.