Bible Study has been suspended due to increased COVID-19 cases in our province.
We await further guidance from the Government of Alberta, our area Bishop, and our MOLC Church Council as to when we will resume.
Thank you for your understanding.
---
WHO: people who would like to get together, read, discuss, and share Communion together.
WHAT: each week, we'll read a portion of of the Bible and discuss it. Starting with Leviticus, which is about three things that are good to study:
What is an offering to the Lord?
What are things that make life work better?
What are the benefits you get out of being a follower?
We will see that chapters 25 and 26 can lead us into a new way of 'doing life'.
WHEN: Wednesdays from 7:00pm to 8:30pm.
WHERE: meet in the Room2Grow at Mount Olivet Lutheran Church.
HOW: Bring your own Bible and beverage.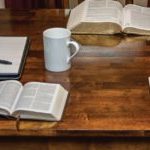 TO REGISTER, contact the church office.