WHO: people who would like to meet over Zoom from the comfort and safety of their own homes, to read and discuss the Bible together.
WHAT: each week, we'll read a passage or two, with Pastor Colin facilitating.
WHEN: Thursday from 10:00am to 11:30am.
WHERE: meet via Zoom – the link will be emailed to you and you just have to click it to join… but if you are new to Zoom, contact the church office ahead of time and we'll set you up with a test run.
HOW: have a Bible, a beverage, and a smile when you sign on.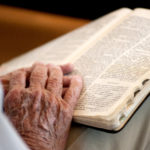 TO REGISTER, contact the church office.