WHO: for all young adults who wish to participate.
WHAT: join Julie for a time of fellowship, prayer, and new activities! We will aim to complete a small activity together (socially distanced – i.e., disc golf, virtual board games, etc.) followed by a time of fellowship.
WHEN: every other Tuesday evening from 6:30 to 8:30pm.
WHERE: typically meet in the MOLC parking lot, but register to be sure.
HOW: bring your own snacks and tea!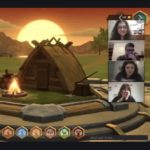 TO REGISTER, contact the church office.